BK21 Plus Program
(광운대학교 전자공학과 BK21 교육연구팀)

Graduate student education program
Project duration: 2020 – 2027
Total Team Members: 6 professors + 50 (+α) graduate students

– Nano-micro structure-based optoelectronic device and 6G application research core manpower training team

Website: http://kwee-bk21four.or.kr/
Research & Education Team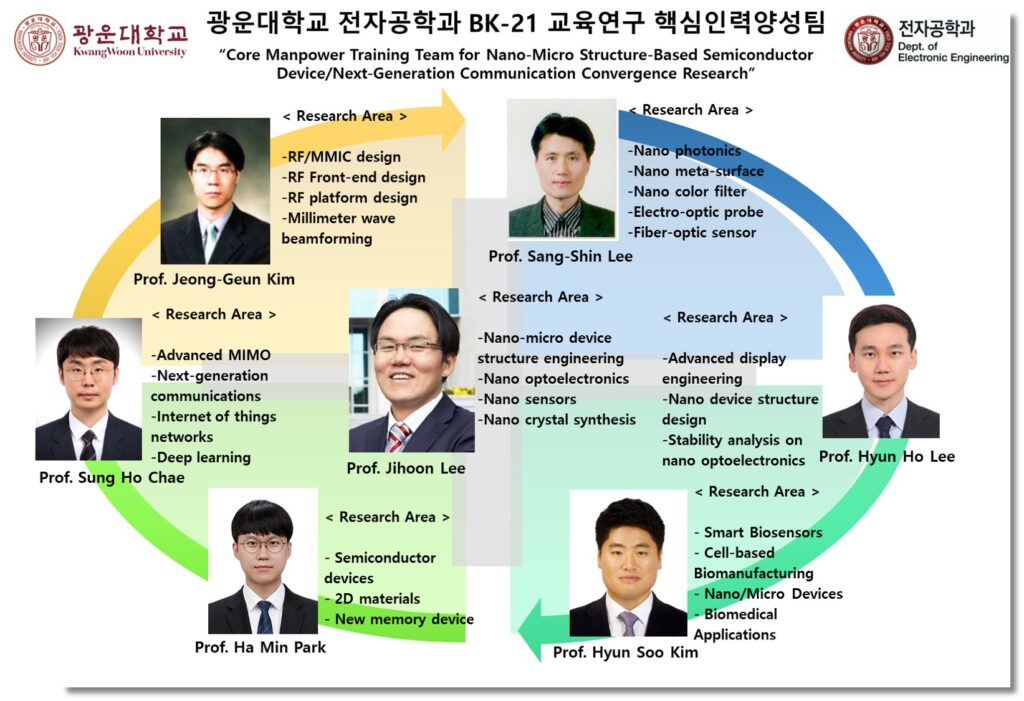 Research Education Team Leader

Professor Jihoon Lee

Research Education Team Members

Professor Sang-Shin Lee
Professor Jeong-Geun Kim
Professor Sung Ho Chae
Professor Hyunho Lee
Professor Hyun Soo Kim
Professor Ha Min Park
Research Education Team Vision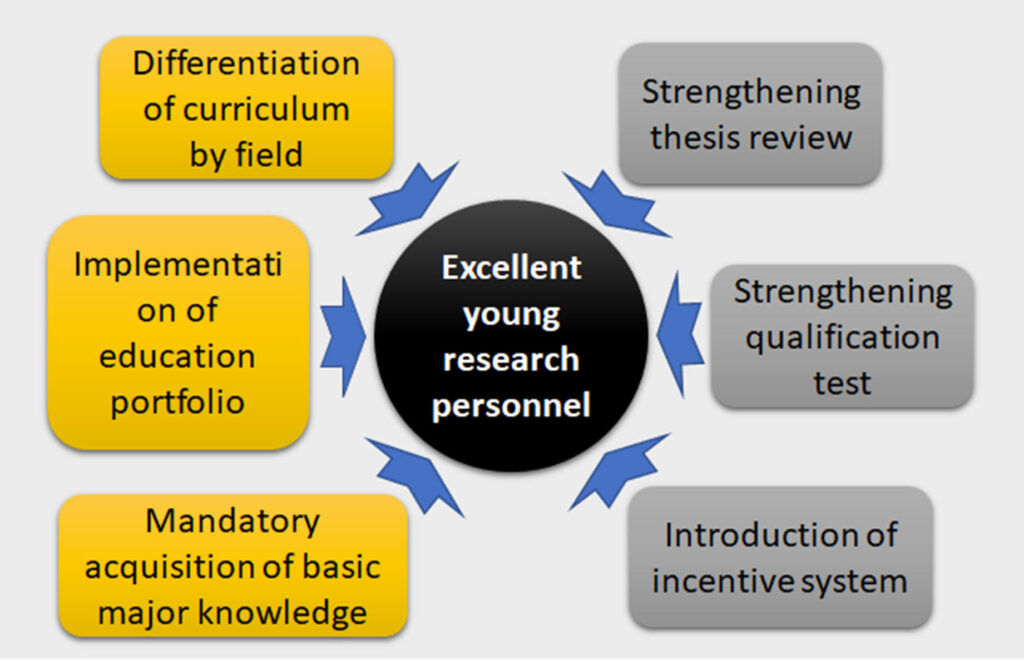 To cultivate creative talents for the activation of semiconductor devices and next-generation 6G applied innovative technologies, secure international level research capabilities, and carry out the mission of securing future growth engines through advancement of nano-micro structure-based semiconductor devices and next-generation telecommunications convergence industry. Advanced R&D for future talent training
Targets & Goals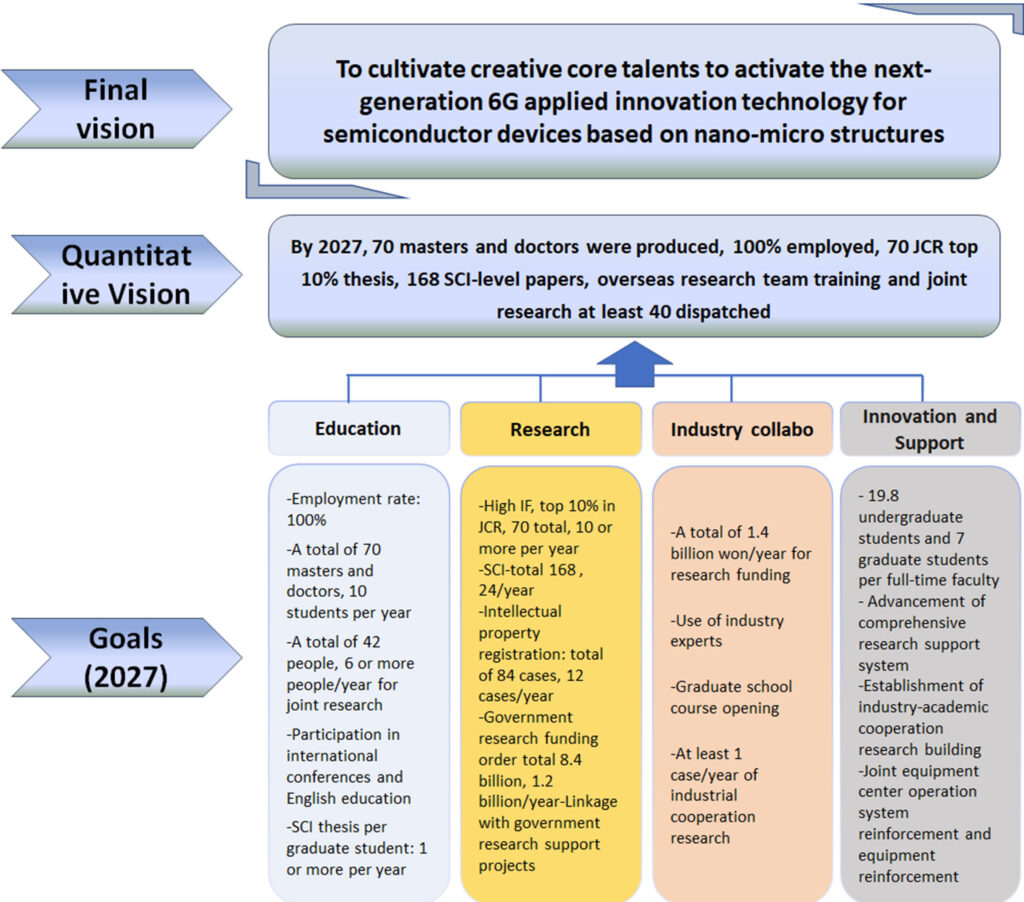 ▶ Educational Competency Area

– Employment rate: 100%
– BK team graduates: 70 core manpower for 7 years, master's 21 (30%) doctoral 49 (70%).
– After 2 years of Ph.D. program, the top 10% of the JCR field per person is published 1/year or more
– SCI thesis per graduate student: 1 or more published per year
– Master's Graduation Requirements: SCI Level 2
– Doctoral graduation requirement: SCI level 5
– Participation in international conference once/year or more
– English education: from 68% to 80%
– Research exchange and joint research with research teams from famous overseas universities

▶ Research Competency Area

– IF thesis publication with the highest 10% or higher in the JCR field, 70 total, 10 or more per year
– Business Team SCI-level total 168 pieces, 24 pieces/year
– Business team intellectual property rights application/registration: Achieved a total of 84 cases, 12 cases/year
– Project team won 8th year of government research funding total 8.4 billion, 1.2 billion/year
– Linkage with government research support projects (focused research centers, etc.)

▶ Industry-Academic Cooperation Area

– Project team received a total of 1.4 billion won/year for research funding for industry targets
– Graduate school course opening: related to the advancement of the semiconductor device next-generation communication convergence industry
– At least 1 case/year of industrial cooperation research in the second half of the project (technology transfer project)
– Expansion of internships for graduate students at home and abroad and establishment of industry-university cooperation network
– Utilization of domestic and foreign industry experts (adjunct professor of industry)
Strategies for research capabilities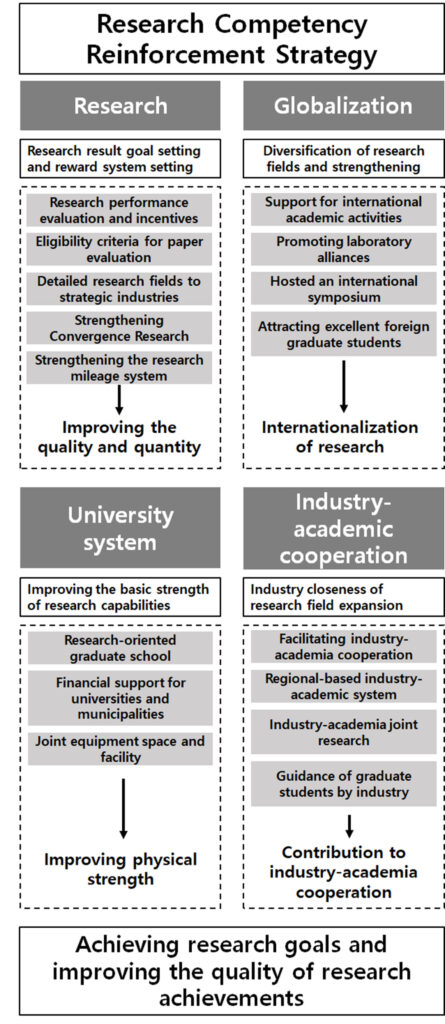 – To improve the qualitative index of the next-generation science and technology field, set a target value for the JCR% quintile per publication in internationally renowned academic journals: JCR top 10% 10 or more/year

– In order to secure the novelty and originality of research by the education research team, a target number of citations per publication in internationally renowned academic journals is set.

– Set target values ​​for the number of publications in internationally renowned academic journals representing the excellence of the business team's research capabilities, and improve the business team's internal research power.
Expected Impacts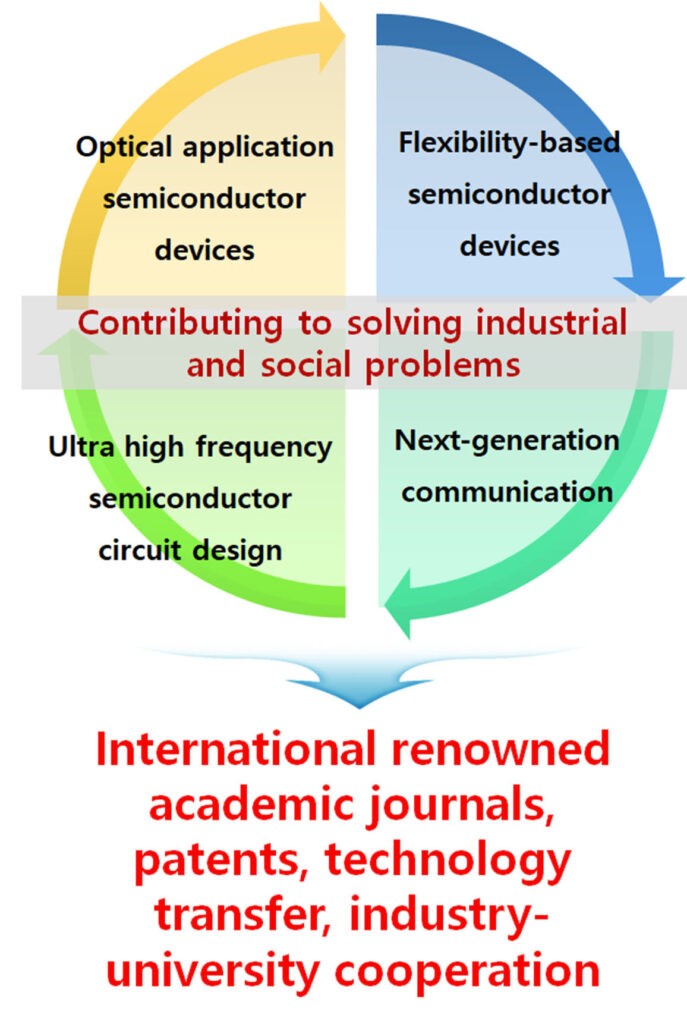 ㅇ Educational aspects:

– Nurture talents who have secured core expertise in next-generation semiconductor and communication convergence
– Nurturing graduate students with a sense of international research
– Reinforcement of employment of participating graduate students in related companies

ㅇ Technology development side:

– Securing technology of key elements for next-generation semiconductor device communication application innovation
– Preemptively secure core technologies leading the future semiconductor/communication convergence industry and create new industrial fields
– Presenting future research fields in the semiconductor/communication convergence industry

ㅇ Aspect of industry-university cooperation:

– Industrialization of research results and securing intellectual property rights through patent registration
– Contribution to the industry by nurturing key talents in the semiconductor/communication convergence industry
Global Collaborations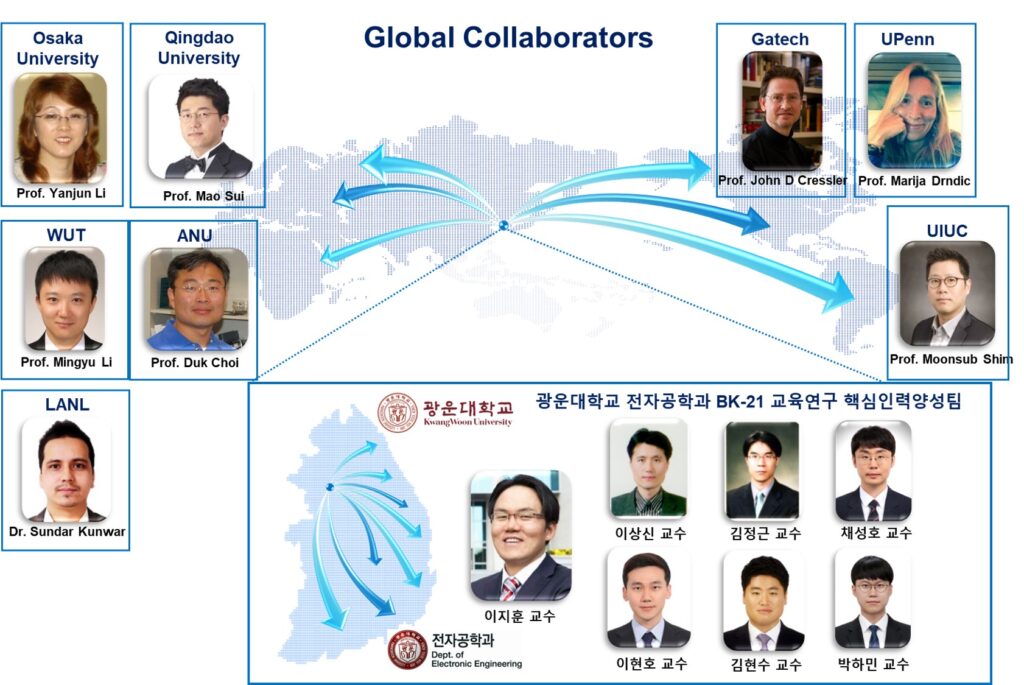 Expansion of research exchange by inviting and utilizing international scholars
Memorandum of understanding with excellent overseas universities, short and long-term internships, visit training, and joint degree system promotion
Host international symposiums hosted by this project team and support international conferences
For the internationalization of educational programs, courses such as advanced engineering, English for paper writing, and English paper writing methods can be promoted as regular curriculum.